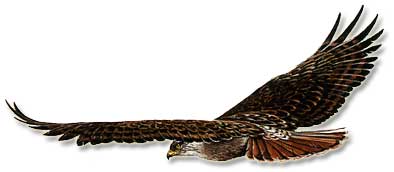 We have driven 1,955 miles so far. We are also back to using Utah time, since that is our destination for the day.
7:40 a.m.
We loaded up the Trooper, then walked over for breakfast at the Rough Riders Saloon (next to the Post Office), which opened at 6:00 a.m. local time. They serve coffee and juices and fresh rolls and a few other Continental breakfast type stuff.
Mirek and Hana and Anne had scones, while I had a couple of cinnamon rolls. Of course, Mirek and Hana also had coffee. The guy behind the counter is definitely a morning person, or he drinks too much of his own coffee. He was pumped up and very talkative. When he found out that Mirek and Hana are from the Czech Republic, and that they were looking for a Susan B. Anthony one dollar coin as a souvenir, he mentioned that he had about 25 of them at his cabin. He sent a fellow that he knows over to his cabin to get five of them. When he got back Mirek gave him a $5.00 bill for them. Anne and I paid $7.30 for our meal; Mirek and Hana paid $8.09 for theirs.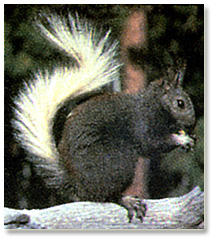 After we ate we checked out at the Lodge. Our stay on the North Rim cost the four of us $215.16 for our shared cabin. That comes to $107.58 per night, or $53.79 per couple per night. Then we walked along the patio one last time to catch the morning view. The public restrooms at the Lodge were not open yet, so we walked back to the Trooper and drove to the laundromat. Those restrooms were closed as well. So we drove down to the General Store and found that the store was closed, but, one of the restrooms near the campground was open. We used that.
The morning sky was clear and the air was cool. There was no breeze. On the way out of the campground area we finally spotted a black and white Kaibab squirrel.

On the drive between the Park and Jacob Lake, along Highway 67, we spotted several female mule deer and wild turkeys in the big meadows. A nice end to our stay in the Grand Canyon.
We stopped in Jacob Lake to buy ice at the Chevron gas station. We also looked for boot laces, since I'd busted both of mine the day before, but no luck. From there we took Alternate 89A north.
9:00 a.m.
We stopped at the LaFevre Overlook to view the Grand Staircase of northern Arizona and southern Utah. The color, expanses, and dome of the sky are quite impressive there. We drove on through Fredonia and entered Utah once again.
9:30 a.m.
We stopped in Kanab to buy gas at a Sinclair station, and to change into our shorts. It was sunny and cool. Gas was $2.139 per gallon. We paid $22.97 to fill the tank. Our mileage was 2,033 miles so far. We took Highway 89 north.
9:57 a.m.
We saw a llama in a farm yard north of Kanab.
10:06 a.m.
We drove through Mount Carmel Junction and headed west toward Zion National Park on Highway 9, the Zion—Mount Carmel Highway.
10:20 a.m.
We entered Zion National Park through the east entrance (elevation 5,700 feet, or 1,737 meters) and stopped to view Checkerboard Mesa. The Park was very crowded. (See map.)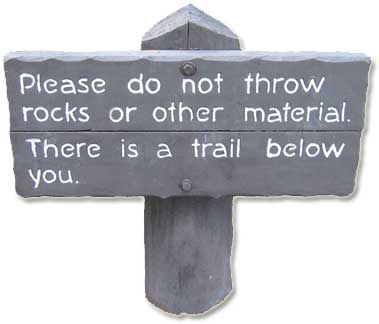 11:30 a.m.
We stopped at the trailhead for the Canyon Overlook and hiked the one mile (1.6 kilometers) round-trip. The trail starts with a steep climb up several steps, then passes through some interesting sandstone formations, along several narrow canyons, across a short metal and wood bridge that hangs out over the side of a cliff, then continues through an alcove, and makes a short climb up over some exposed sandstone. It's a very interesting short walk with great views. The end of the trail looks down over the main part of Zion Canyon, and sits atop The Great Arch.
We ran into some very noisy kids, especially one who kept yelling, trying to get his voice to echo. We kept turning to stare at the kid, hoping he or his older brothers and sisters would take the hint. But that did no good. Finally Hana, who was right in front of him, told him to shush. His older brother kept him quiet the rest of the hike out.
We then got in line and drove through the tunnels, down the long switchbacks, to a point where we could see The Great Arch. We stopped there for a quick set of photos. From there we continued on down into Zion Canyon and took Highway 9 through the Park to the South Entrance.
11:58 a.m.
The South Entrance to the Park was backed up into Springdale. Apparently the parking lot was full and park employees were trying to direct visitors to other areas where they could take a shuttle into the park.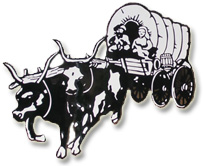 We reached Springdale, Utah (elevation 3,920 feet, or 1,195 meters) and found the Historic Pioneer Lodge, where we were staying. Our rooms were ready and we got right in. They are very nice. The rooms are $69.13 per couple per night.
There is an orchard behind the motel with tall fences. There are several elk, buffalo, a burro, long-horned steers, and various cows, bulls, and horses kept there.
We then had lunch at the Lodge restaurant, attached to our motel. It was very crowded, but we were able to get a table near the front. The waitress had to move it out of the hot sun, but it worked well for us. Mirek and Hana had chicken strips and fries with a cappuccino. Anne had a bacon, lettuce, and tomato sandwich (BLT). I had fish and chips with a Dr. Pepper. Anne and I paid $19.46 for our lunch; Mirek and Hana paid $21.69 for theirs.
The temperature was warm to hot, with clear skies.
After lunch we caught one of the town's free buses in front of the Bumbleberry Inn, just across the street and up a block from our motel. The bus has a turn around spot just outside of the entrance to the Park, where we got off and walked across a bridge to the new Visitor Center. There we got on one of the Park shuttles.
We took the shuttle to the Emerald Pools (elevation 4,708 feet, or 1,436 meters) and hiked the .6 miles of asphalt trail to the lower pool. We saw prickly pear cactus and lizards and a small toad. We wore our Tivas, because we intended to walk in the Virgin River in The Narrows. There was only a small amount of water coming over the falls at this time, but it was cool and still interesting to see. Hana got a bit of a blister on the walk. Mirek and Hana applied a band-aid to the sore.
After we walked back to the shuttle stop we rode to the Weeping Rock stop and climbed up to the alcove beneath the weeping rocks. The Sun was shining into the alcove, so it was a little warm, but we stood under the "rain" and cooled off. There were quite a few people in the area. Some very noisy.
From Weeping Rock we took the shuttle to the Temple of Sinawava and hiked down the one mile asphalt trail to The Narrows. The trail was crowded, in both directions, and the entrance point to The Narrows was like a circus. I guess because it was Labor Day weekend. We wadded into the river and made our way about .25 miles up stream. This is difficult walking because of the current of the Virgin River and the water washed boulders along its bottom. A lot of people use dead tree branches as a balancing stick to help them make their way. As people come out they leave their stick against a sandstone wall for others to use. A fellow who was just returning as we entered offered his stick to Hana. She used it the entire way.
We saw squirrels and climbers. One of the kids in the stream caught a small water snake. It was about six inches long and about the size of a very thin pencil. It was a constrictor of some sort.
After we completed our journey up the river, just as we were climbing back up to the trail, Hana and Mirek met three fellows from Slovakia. They had a quick conversation before we continued.
The hike back along the asphalt trail is worse than on the way in because, at first, your feet are still wet and covered with sand. But we all made it through okay.
5:00 p.m.
We returned to the Temple of Sinawava bus stop from our hike up The Narrows. On the ride back to the Visitor Center we saw several wild turkeys. At the Visitor Center we caught the Springdale bus back to our rooms, where we cleaned up a bit. We walked to the Bumbleberry Inn for dinner, but it was closed. Not certain where else to go, we walked a few blocks into town to see if we could find another place to eat. It was getting to be too far, so we decided to walk back to our motel and eat at the restaurant there. It was the same place we had eaten lunch.
While on our walk through town we had seen fruit bats fluttering around above the pen of wild critters. It was on that walk that I discovered that Mirek seems to have a slight problem with his left hip. He seems to be favoring it a bit. He might have injured it on the hike in The Narrows. I hope it is not serious.
Anne had a salad. Mirek and Hana had a salad and a grilled cheese sandwich. Mirek also had two Buds. I had a turkey sandwich with mashed potatoes and lots of gravy. It was good. Anne and I paid $27.37 for dinner; Mirek and Hana paid $26.32 for theirs.
8:45 p.m.
We talked and talked and then decided it was time to turn in. We will shoot to get going by 7:00 a.m. tomorrow morning.
The Park was so full of people today that it was almost ridiculous. The buses and shuttles were packed. The points of interest are packed. There are swarms of people walking and laughing and talking everywhere. There is no solitude, no peace. It's like some circus event or state fair. Rude people who won't stay on their own side of the trail. Young, old, crying children, whining children and women, loud teens and singing high school girls. (What is it with singing high school girls these days. Out in the middle of a national park, where most want peace and quiet, and these girls start singing in their shrill voices. Strange.) There are all nationalities mixing together.
We have decided to skip our planned hike up to Scout's Rest because it is too strenuous, will take too long, and because of Mirek's hip and Hana's blister. We will have a more casual day and can spend more time at Cedar Breaks and Bryce Canyon.

The day was clear and dry. Not a cloud in the sky. In the evening, before we turned in, Mirek and I located the North Star and the Big Dipper and Ursus Major and Minor. He mentioned the Czech names for all of them.