We set the alarm for 5:30 a.m., but I got up late. Just too tired to get moving, I guess.
7:20 a.m.
We finally made it to breakfast at the same restaurant as our last two meals. We had the same waiter as we had for lunch. Very nice guy. He remembered us, and proved it by repeating our orders for lunch the day before. Impressive.
We all had eggs. Mirek, Hana and I had ham with ours, with hash browns. I had tea and juice, and they had coffee. Anne and I paid $21.05 for breakfast; Hana and Mirek paid $22.79 for theirs.
8:15 a.m.
We finished breakfast and ran across the street to a tourist trap and grocery store to buy new boot laces for my hiking boots, and some lunch meat and cheese and bread. Our shared purchases came to $25.71.
8:40 a.m.
We left Springdale. Clear skies, and cool. Breezy. We took Highway 9 west to La Verkin, where we caught Highway 17 north. When we passed through Toquerville and reached Interstate 15 northbound that was the farthest west Mirek and Hana had ever been. Mesa Verde was the farthest east that they had been on the ground portion of their trip. The South Rim of the Grand Canyon was the farthest south, and Mammoth, in Yellowstone National Park, was the farthest north. The highest point on their trip will be Cedar Breaks National Monument, which is over 10,300 feet in elevation. I'm not sure what the lowest point was or will be.
We passed through more pinyon and juniper forests. When we reached Cedar City we turned east on Highway 14 and headed up onto the Markagunt Plateau.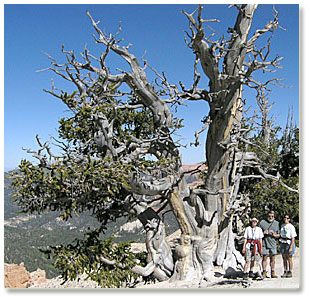 10:08 a.m.
We stopped at the Zion Canyon Overlook, east of Cedar City, along Highway 14. It was cool. There are no clouds. We got great views of the top of Zion National Park and the surrounding area. Shortly after this stop we turned north on Highway 148.
10:15 a.m.
We entered Cedar Breaks National Monument. We put on our boots, used the restrooms, and went into the small Visitor Center and looked over the edge from the Point Supreme Overlook (elevation 10,350 feet, or 3,155 meters). It was 60 degrees F. at the Visitor Center. Then we hiked two miles round trip to Spectra Point (elevation 10,285 feet, or 3,135 meters) along the south edge of the amphitheater, out to where the old bristlecone pines grow. There were a few people out on the trail, but not too many. Most of the time we had the trail to ourselves. On the way back we saw several varieties of flowers and a frisky chipmunk.
12:00 Noon
We returned to the Trooper and took off our boots and left the Monument.
12:20 p.m.
We drove down Highway 148 to Highway 14, near Navajo Lake and passed several lava beds. At Long Valley Junction we took Highway 89 north. North of Hatch we spotted more llamas.
1:00 p.m.
We took Highway 12 east, and when we reached the Red Canyon area we stopped at the first two view points to take photos.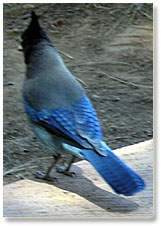 1:10 p.m.
We entered the Red Canyon Campground and were met by the campground host. He took our $2.00 for day use and directed us to site 19 where he said the picnic table was in the shade. He was right. It is a nice site. We had our usual picnic, and enjoyed the company of a Pinyon Jay who cautiously checked out our site. We used a citronella incense stick in an attempt to keep the gnats and mosquitoes away, just in case they were around.
2:00 p.m.
We used the campground restrooms and left headed east along Highway 12.
2:25 p.m.
We entered the Ruby Inn area. We were able to check right in at the Bryce View Lodge, across Highway 63 from Ruby's Inn, and set back a bit off of the road. Our rooms were 4266 and 4267, right next to each other, in building four, on the second floor. Each room had two queen sized beds. The rooms cost each couple $69.30 per night.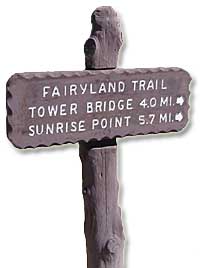 We moved our stuff from the Trooper, put on our boots, and then walked across the road to Ruby's Inn, where we boarded the free shuttle bus for Bryce Canyon National Park. (See map.) We rode the bus out to Bryce Point where we got off, looked around, then walked the 2.2 miles to Sunset Point, where we caught the shuttle back to Ruby's. The main overlook points were crowded, but we mostly had the trail to ourselves.
Anne and I had not seen the amphitheater this late in the day this late in the year. The low angel of the sun gave the pinnacles and hoodoos a different look.
At the Sunset Point Overlook there was a family that came up to the point and immediately began yelling over the edge. The father was the first to do it, then, of course, the son had to try. Maybe they thought there would be an echo, I don't know. After a few attempts they finally stopped, but the father spoke so loud that we could hear every word he said from maybe 50 feet away. It was like they thought they were the only people out along the edge. Other visitors commented on the guy. He wondered aloud, "I'll bet a lot of people have fell down in there." Most of the tourists at the point at that time were Germans. I think the guy was American-Hispanic. He sure gave a good impression of Americans. All it takes is one asshole to ruin it for everyone.
5:45 p.m.
On the shuttle ride back toward Ruby's we saw deer in a meadow.
6:30 p.m.
We got back to Ruby's and decided to eat there. There was a line, as usual, but the wait was very short. They have opened up a new outside area where a good number of people were seated. Also, there was another Czech speaking worker who spoke briefly with Mirek and Hana. He was from Moravia.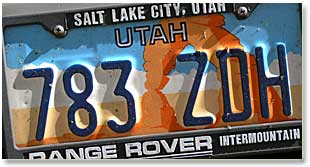 Anne and I had chili, a potato cheese appetizer with BBQ sauce, and mozzarella cheese sticks. Not very healthy, but it sure tasted good. For dessert we had seven fruit pie with ice cream on top. Mirek and Hana tried the chicken quesadilla. Hana had water and cherry pie, with ice cream. Mirek had a Bud and a Miller for dessert. Anne and I paid $36.40 for our meal; Mirek and Hana paid $30.06 for theirs.
After dinner we bought sweet rolls and milk at the store for tomorrow's breakfast, costing us $8.85 in shared expenses. We then walked to the tourist trap across the road from Ruby's. We took photos of each other looking through old west facades, and from an old jail cell. We had a few good laughs. Then we walked back to our rooms and called it a night.