2:00 a.m.
About this time, in the middle of the night, we heard a series of strange sounds. At first I thought it was coyotes howling. But there was no barking. However, Anne says that she heard some yipping that reminded her of coyotes. Then I thought maybe it was wolves, because it was unlike any sound I had ever heard before. But probably not. The sound was almost like laughter mixed with bird cries and coyote howls and occasionally a human voice. But there was almost a mechanical element mixed in. The sound echoed through the still of the night and moved from place to place. I almost suspect a prank by the seasonal workers.
5:45 a.m.
We got up and began our day, so that we can pack and head out.
The cabin's plumbing is somewhat primitive by our modern standards. Whenever we shower and Mirek and Hana turn on their water faucet, our water changes temperature dramatically. Suddenly hot or cold. I suspect that they have the same problem when we turn our water on or off. In addition, the rooms are very small.
7:00 a.m.
We loaded the Trooper, I washed the windows, and we headed down to breakfast at the Lodge Cafeteria. Mirek and I had French toast. Hana had whole wheat toast. Anne had cold cereal. Of course there was coffee and juice as well. (Grub down!) Anne and I paid $9.48 for our meal; Mirek and Hana paid $6.20 for theirs.
7:45 a.m.
We finished our meals and checked out of the Lodge. There was some financial wrangling that had to be done with the credit cards to make sure the correct accounts were charged. Each couple paid $187.62 for our stay here; or $62.54 per night per couple.
I asked the woman behind the counter about the strange sounds from earlier in the morning. She said it was probably coyotes, and that they make some really unusual sounds in this area.

We left the Lake Village area and drove south along Yellowstone Lake for the last time.
8:30 a.m.
At Grant Village, on our way out, we had driven 592 miles. We bought gas at $2.19 per gallon, and paid $32.74 to fill up. There are restrooms in this area. The morning air was cold, and mostly clear. There were buffalo and elk along the road.
We headed back south along the same route that we took when we drove in. We got lucky with the road construction going out, getting in at the tail end of a group moving south. We drove through the John D. Rockefeller Jr. Memorial Parkway once again, then entered Grand Teton National Park.
9:45 a.m.
We stopped for photos of the Grand Tetons at the Willow Flats Overlook. At Jackson Lake Junction we went east on Highway 26 and 287.
9:50 a.m.
A bunch of cars had stopped along the road at the Oxbow Bend Turnout. The occupants were observing a moose in the water. I saw it as we drove by, eating along the edge of a stream. But, by the time we got stopped and walked back to where the others were, the moose had moved into tall brush and we could no longer see it. That was a bit of a disappointment.
At Moran Junction we turned south on Highway 26, 89, and 191.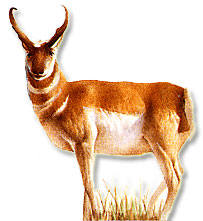 10:10 a.m.
We stopped at the Teton Point Turnout for photos. The mountains looked great, with few or no clouds. We were also able to get a good look at the Snake River Valley below.
We then passed Gros Ventre Junction and left Teton National Park. We drove along the National Elk Refuge, but didn't see any elk there.
10:30 a.m.
We entered Jackson, Wyoming and made a quick restroom stop at McDonalds (Mickey Dee's) and had a snack for the road. The morning was sunny and clear. When we left we headed south out of town on Highway 191. At Hoback Junction we took the left route, Highway 189.
11:21 a.m.
We started spotting antelope south of Bondurant, Wyoming. We also saw cranes and could see the high Wind River Range off to the east.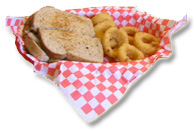 12:30 p.m.
We stopped in Big Piney, Wyoming for lunch, at the Happy Trails Café. Mirek and I had the Iron Horse (patty melt) with onion rings. This was the first time our guests had tried onion rings. They both liked them. Hana had the Pancho Villa, with chicken, bacon, and guacamole. That was the first time she had eaten guacamole. She only ate part of it, and gave the rest to Mirek and I, who used it on our sandwiches. Anne had a salad with an Iron Horse. We had a great time reminiscing about Yellowstone. Anne and I paid $16.11 for our meal; Mirek and Hana paid $16.28 for theirs.
Near the end of our meal we visited with a talky four-year-old sitting with his parents at the table next to ours. Mirek was also fascinated by the knotty pine board walls, the local cowboys, and the western memorabilia hung on the walls.
Hana asked for the recipe for onion rings, hash browns, and our Thanksgiving turkey meal. We will send it to her via e-mail.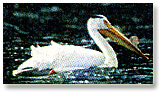 2:00 p.m.
We spotted pelicans on the shore of the Fontenelle Reservoir on the Green River near La Barge, Wyoming.
2:10 p.m.
Just before we turned off toward Kemmerer, Wyoming we ran into road construction for nine miles. They have stripped away the concrete and asphalt and we had to drive on rough dirt. Outside of the Trooper it is dusty, windy, and cool. It took us ten minutes to get through.
3:26 p.m.
We spotted wind generators along a ridge between Kemmerer and Evanston, before we reached Interstate 80.
3:35 p.m.
We reached Interstate 80 and headed west.
3:50 p.m.
We reached Evanston and bought gas at the Texaco for $1.76 per gallon. We filled up for $20.09. We had traveled 868 miles. We drove through Echo Canyon and near Echo Reservoir and then past Park City, where we could see the 2002 Winter Olympic ski runs and bob sled courses. Then we climbed up and over Parleys Summit and on down the long drop through Parleys Canyon into the Salt Lake Valley.
5:02 p.m.
As we had feared, we reached Salt Lake City right at rush hour. We took Interstate 215 south and the traffic really wasn't as bad as we anticipated.
We stopped along the way at our local Best Buy to pick up another 512 mb Flash Memory Card to make sure that we all had enough photo memory for the trip. We realized that at the rate we were taking photos there was no way we would be able to get the rest of the trip in the memory that we had. The new card cost $119 plus tax. I will loan Mirek my extra card until we can burn the images onto CD at the end of the trip.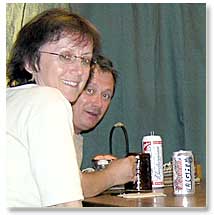 6:06 p.m.
We finished shopping at Albertsons (across from the Best Buy store) for groceries. Mostly lunch items. Our shared expenses were $47.15.
We then drove home and unloaded the Trooper and settled in for the night. We ordered pizza and buffalo wings from Pizza Hut. Mirek and Hana said the pizza was much better than anything similar that they have at home. And they had never had buffalo wings before. They seemed to like them as well, although they are not as fond of hot and spicy foods as we are.
Anne did a couple of loads of laundry and Mirek and Hana packed their bags for the second part of our journey. They showered and turned in.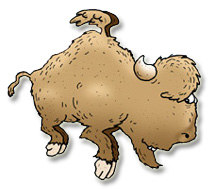 I downloaded the images from Mirek's memory cards onto Anne's computer. From there I transferred them to my computer via our network connection, then burned them to a CD for safe keeping. The connection between the two computers was really slow, and it took me a very long time, way past the point where Mirek and Hana went to bed. Something was slowing down our machines. I thought it might be the size of some of the video files (over 15 mb), but that shouldn't have been a problem. [We found out later that it was our McAfee virus protection software. Once we shut it off everything worked much more smoothly and much faster.]
Sometime around 10:00 I finally turned in.