8:10 a.m.
We ate our breakfasts in our rooms. Then, we loaded up the Trooper, and while Anne and Hana checked us out of our rooms, Mirek and I took photos of some of the old trucks sitting around near the motel. Then we drove into the Park. We spotted several mule deer along the road and in a meadow.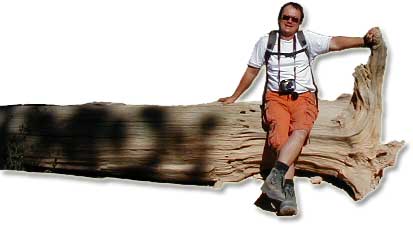 8:17 a.m.
We parked at the Sunrise Point parking area and hiked along the rim to Sunset Point where we picked up the Navajo Loop Trail through the Wall Street area, then up the Queen's Garden Trail. It was only three miles round trip. It was chilly and windy on top, but the temps were nice down in the canyon and we took a lot of nice photos. The morning sun seemed to put a glow on everything. The sky was clear, with only a few thin clouds on the horizon. There were a few people, but not too many.
10:30 a.m.
We finished our hike back at the Sunrise Point parking area. We used the restrooms near the General Store there, then went in to buy a few souvenirs, some ice, and snacks. A lot of items are already on sale, since the main tourist season is already over. So we picked up a couple more t-shirts at a good price. Our shared expenses for food came to $16.61.
11:07 a.m.
We left the General Store and drove back north through the Park on Highway 63.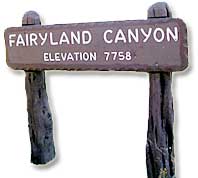 11:19 a.m.
At the northern edge of the Park we stopped at the Fairyland Canyon Overlook (elevation 7,758 or 2,365 meters) for one last glimpse of the fantasy world below. We left from there and caught the Highway 12 Scenic Byway once again, heading east.
11:30 a.m.
We stopped in Tropic, Utah for gas. $2.03 per gallon. We put in 9.3 gallons. It cost us $18.98 total. We have traveled 2,226 miles so far on this trip.
11:48 a.m.
We entered the Grand Staircase-Escalante National Monument, the newest monument in the United States Park System.
12:00 Noon
We stopped at an unnamed scenic overlook where we got a good photo opportunity of Powell Point on the tip of Table Cliff Plateau. We could also see Bryce Canyon National Park in the distance. I was finally able to show Hana some barbed wire fence, which was along the road. We had discussed it on our first day on the way to the Tetons.
12:45 p.m.


East of the town of Escalante we stopped at the Canyons of the Escalante Overlook and took photos of the sandstone formations and the distances across these weathered landscapes. Portions of the move Butch Cassidy and the Sundance Kid were filmed in this area.
12:57 p.m.
We stopped at the Boynton Overlook of Phipps-Death Hollow, overlooking the Escalante River and part of its canyon.
1:12 p.m.
We stopped at the Calf Creek Overlook and took a few photos. We drove across The Hogback, where the cliffs fall off on either side of the highway into deep sandstone canyons below. Then we drove through Boulder, Utah and stopped at the Anasazi State Park for lunch and to look around.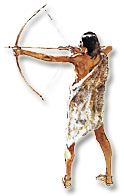 The cost was $4.00 per person for the self-guided tour. But before we viewed the site, we enjoyed a picnic lunch out under the trees on the nice green lawn. Just before we finished a bunch of motor cycle folk pulled into the parking area, and we let them move the second table near ours over to another spot where they were setting up for a picnic as well. It appeared to be a group of 40 or 50 year-olds out reliving their youth.
After lunch we toured the few archeological sites in the park and looked through the museum and used the rest rooms. I had first visited this site in 1971 when the archaeologists were still trenching and there were no buildings here. The excavations are not extensive, but they do have a nicely constructed life size model of a pueblo. And the museum has some wonderful artifacts.
2:37 p.m.
We left Anasazi State Park and headed north out of Boulder, up onto Boulder Mountain.
2:49 p.m.
We spotted a mule deer.
2:54 p.m.
We stopped at the first overview on Boulder Mountain, coming in from the south. There was a slight haze in the distance that made good photography difficult. But I was able to point out a few features, as well as the Henry Mountains, now to the east of us.
2:56 p.m.
We stopped at the Homestead Overlook where there is a memorial noting the dedication of Highway 12 as the Clem H. Church Memorial Highway. Apparently Clem was head of the Utah Highway Department at one time.
3:05 p.m.
We stopped at the Steep Creek Overview. The elevation is 9,320 feet. The highest point we passed over was about 9,400 feet.
3:12 p.m.
We had to stop for road construction. It appears that they are doing chip sealing and oiling of the roads. They stopped us just after we passed the high point and started down.
The car in front of us had a good bumper sticker which read: "New No-Carb Diet: No-Cheney, No-Ashcroft, No-Rumsfeld, No-Bush."
3:23 p.m.
They led us through. The air is cool, breezy, and mostly clear.
3:37 p.m.
We stopped briefly at the Larb Hollow Overlook to get a good glimpse of Capitol Reef National Park and the Waterpocket Fold, as well as all of the surrounding spectacular landscape. Then we drove on down to the junction with Highway 24 and turned west.

4:07 p.m.
We reached the Chuckwagon Motel in Torrey. We got right in again. Cabin 9. We are sharing the cabin, which has two separate bedrooms. Very nice. It has a front patio with four wooden chairs. We have a common living room with a couch, a recliner, a large TV attached to a satellite dish, a kitchenette, a bath, and two identical bedrooms. Each bedroom also has a TV. The two nights in the room will cost us $241.74 total, or $120.87 per night, or $60.44 per couple per night.

We all took showers. Anne did a load of laundry. We bought a bottle of "Utah Beer" at the grocery store, which is part of the motel "complex" which includes a laundry. Utah Beer is actually just drinking water, but refers to how weak the beer is here under the current laws. We also bought some rolls, water, and other items for the next day's lunch. That came to a shared expense of $6.02.
We drove to the Capitol Reef Inn and Café for dinner. It's getting kind of old and run down. It doesn't have one of the nicest atmospheres. Mirek and Hana tried fajitas for the firs time. Anne had spaghetti. I had teriyaki chicken over rice. Mirek and Hana split a slice of pumpkin pie. Their first. I also had a piece. Not bad, but it was a little drier than I like it. Anne had blackberry pie. Anne and I paid $36.62 for our dinner; Mirek and Hana paid $32.70 for theirs.
After dinner we sat on the patio in front of our cabin, talking and drinking beer. It was quiet and peaceful, even after a group of ATV guys drove in. There was one drunk guy (not part of the group) who rode in on an ATV and went into the store. He looked to be really soused. He was swaying all over as he rode his machine, and could hardly walk when he got off.
9:00 p.m.
We turned in for the night, to get ready for the next day's adventures.