6:59 a.m.
We are packed and in the car and ready to go. The sky is clear. The air is a cool 45 degrees F. We stopped at Hageman's Bakery near our house for breakfast. Anne had a muffin and Mirek and Hana and I had croissant-style pastries with either ham and cheese or bacon and cheese. Anne and I had orange juice and Mirek and Hana had coffee.
7:50 a.m.
We stopped to buy gas at the Chevron station near Albertsons grocery. The gas was $1.75 per gallon. We spent $23.45 to fill up. From there we caught Interstate 15 north and drove through many Utah cities and towns, including Salt Lake City, Bountiful, Farmington, and Ogden.
8:55 a.m.
As we drove up I-15 north of Ogden and south of Willard Bay we spotted a tire with its wheel rolling down the south bound side of the freeway, all by itself. I must have come off of a semi-trailer truck with dual wheels, because we didn't see any vehicles stopped or stopping along the road. The tire ran on for quite some distance, crossing into the median, then rolling back out onto the southbound lane and crossing to the far side. We lost sight of it after that, and noticed several cars stopping or slowing.
Mirek and Hana asked about Willard Bay and we explained the man-made levy and how it keeps the salt water of the Great Salt Lake separate from the fresh water entering the bay from the Wasatch mountains.
9:00 a.m.
We stopped at the rest area 66 miles from our starting point, probably in the Wellsville area. From there we continued north on Interstate 15 and crossed into Idaho near the town of Portage. Near the Idaho town of McCammon (elevation 4,751 feet) we turned east on Highway 30. We stopped at a gas station in Lava Hot Springs (elevation 5,072 feet) to use the restrooms and to stretch. Hana asked me about the log fences nearby, and wondered if that was how we keep our livestock in place. I explained that the log fences were probably more for show, and that we use barbed wire to surround our range land. She was not familiar with barbed wire, I tried explaining, but failed. I'll have to show her when we get close to a fence line somewhere.
11:00 a.m.
We spotted white pelicans in the river near Soda Springs. Up to this point we have seen Turkey Vultures, a variety of hawks, a crane, and alfalfa, potato, and sorghum fields. Near Soda Springs (elevation 5,779 feet) we turned north on Highway 34. This is the junction of the Pioneer Historic Byway (north) and the Caribou Forest Scenic Byway (south). We traveled that route until we turned east and passed Grays Lake. About 25 miles later we crossed into Wyoming and drove through the town of Freedom. There we turned north on Highway 89. We spotted several osprey south of Alpine. There were two in a nest and one flying nearby.
We stopped in Alpine to buy gas and use the restrooms. We spent $23.45 total for gas, at $2.09 per gallon. We have traveled 247.8 miles so far.
We spotted fresh snow on the peaks near the spectacular Snake River Canyon. We picked up an AM radio broadcast that told of the possible delays in the Snake River Canyon due to road construction. Anne and I had run into construction along the same route the year before.
12:54 a.m.
We stopped at the McDougal-Werk Kayak Access, a turnout along the road, for photos of the Snake River Canyon. We spotted several kayaks and dories on the water. We had traveled 257 miles.
A short distance down the road and we were stopped by road construction in the Snake River Canyon for about ten minutes.
1:16 p.m.
After the Snake River Canyon we reached Hoback Junction where we turned north on Highway 191 to Jackson, Wyoming (elevation 6,209 feet). In this area we spotted the tops of the peaks in Grand Teton National Park for the first time. The south edge of Jackson was 280 miles along our route.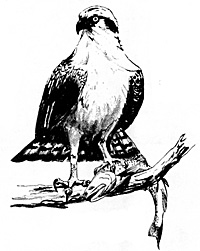 In Jackson we turned west on Highway 22 for about four miles to Highway 390 north toward Teton Village. Along this road we spotted several swans, Canadian geese, and osprey in a tree and nest near the KOA campground. We also spotted cattails in the ditches along the roads. This route passed near the KOA camp where we placed our Coleman pop-up the year before.
2:03 p.m.
We entered Grand Teton National Park and began traveling along a very rutted, potholed dirt and gravel road. We had seen moose and elk in this area the year before and hoped that we would see some this year. We stopped at the moose observation turn-out, but no luck. I think that it was too late in the day.
2:40 p.m.
We reached the Moose Visitor Center at the junction of Highways 390, 89, 26, and 191. We stopped to use the restrooms and to look around. We then drove to the Moose Entrance to Grand Teton National Park and entered again, taking the Teton Park Road toward Jenny Lake. About five miles inside of the Moose Entrance we found a picnic area near Cottonwood Creek. There were several people using the area, but there was still one table left in the shade. We spread out our table cloth and had sandwiches and chips, etc.
3:40 p.m.
We finished lunch, loaded up, and continued our journey.
3:55 p.m.
We arrived at the String Lake Picnic Area where we walked along the lake for a short ways and had excellent views of the Tetons across the water. It was sunny, with some clouds, but the air was a little chilly. We watched a squirrel in the picnic area eat pine cones. Hana seemed to enjoy the squirrels quite a bit. I spoke to a woman in a wheel chair while I was waiting for Anne to come out of the restroom. The woman wanted to get larger tires on her wheels so that she could go out onto hiking trails.
4:36 p.m.
We left the picnic area and continued north. We spotted a coyote along the road, just taking its time as it walked through the tall grass. At Jackson Lake we noticed that there is not much lake left. It is almost completely dry.
At Jackson Lake Junction we turned left onto Highway 89, 191, and 287 and headed north toward the John D. Rockefeller Jr. Memorial Parkway. After we entered the Parkway we ran into road construction. But we got lucky and got to the end of the line just as the other cars were coming through. We had almost no delay at all.
As we moved north through the forest we noticed that there were many young pine growing up, the result of the huge forest fires from the late 80s and early 90s. There are the naked, dead skeletons of the old burned trees sticking up like some sort of random picket fence, and beneath them are the lush green pines of roughly the same height. It's like a whole new forest was born. Thirty or forty years from now a new generation won't see much left of the old forest.
5:35 p.m.
We entered Yellowstone at the south entrance and drove along the deep canyon of the Lewis River. This is an impressive gorge, but there are only a few turnouts, they are usually full, and so it was hard to stop and take in the view.

6:00 p.m.
We crossed into the great caldera just before we stopped at Lewis Falls for photos. Lewis falls is 29 feet high. We drove to the north side of the river, and walked back across the bridge, then along a short trail to just above the falls. The trail was littered with a shiny black rock. I think it may be some sort of garnet-mica schist, a metamorphic rock often associated with volcanism. And there is plenty of volcanism in Yellowstone Park.
We then drove along Lewis Lake and crossed the Continental Divide, at 7,988 feet. We passed Grant Village and at West Thumb we turned east and drove the 21 miles along West Thumb and Yellowstone Lake to the Lake Village. Near West Thumb Mirek and Hana got to see a quick glimpse of their first hot springs and geysers in the West Thumb Geyser Basin. We did not have time to stop.
6:35 p.m.
Mirek spotted a female elk near the side of the road. We turned around, but she ran into the trees when we tried to move closer for photos.
6:51 p.m.
We arrived at Lake Lodge, our final destination for the day, and our accommodations for the next three nights. We parked in front of the Lodge and went in to register. The Lodge is a very nice log style structure, with a large lobby with two fireplaces and many comfortable areas to sit and talk or read. It looks to be very cozy and warming on a chilly evening. There is a gift shop and small grocery store off of the lobby and a long porch on the front with benches and rocking chairs where guests can sit and watch the lake and just relax. (See map or Lake Lodge and Fishing Bridge Area.)
After we checked in we drove the short distance to our cabins. Our cabins are of a wooden structure with a rustic log-cabinish appearance, but they are not true log cabins. There are two units in each cabin, each with its own entrance on opposite sides of the structure, and each with its own bathroom. Mirek and Hana's room (E-12, unfortunately for them) had the water heater in it, making their room a bit smaller than ours (E-11). The rooms are barely large enough for a double bed, a small or table, and a sink. The bathroom had a toilet and a shower. There are windows with screens on three of the four walls. Other than their small size, they are nice and comfortable. The cabins are surrounded by tall pines and even though there are quite a few cabins and other, more motel-like, units, they are spread out enough so that the area is relatively quiet. It's a very nice setting.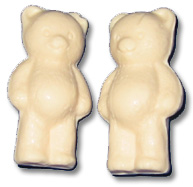 The maids leave a small bear made of soap in each room. Hana and Anne will collect them as souvenirs.
7:30 p.m.
Before we left our cabins to walk down to the cafeteria for dinner, there was a large herd of buffalo wandering through our cabin area. They came very close to us. There were several bulls snorting and grunting and growling (almost like bears). They also rolled around in one spot and kicked up the dirt. There were a few young bulls in the group, and well as juveniles. They just slowly worked their way through the area, grazing and snorting, with all of us tourists just standing in our doorways or windows watching the show. It was very exciting to be so close to such large, wild, animals. And Mirek and Hana were quite excited, and I think, quite impressed.
After the buffalo passed through our area we walked down to the cafeteria in the Lodge. But we had to take a trail between some cabins because the buffs were still roaming. We cut through near where the seasonal help lives. We could hear their rock music and happy, youthful, voices.
At dinner, Mirek, Hana, and I tried the roast turkey dinner. It was a nice thick slice of turkey, a generous portion of stuffing, a large scoop of mashed potatoes, lots of delicious gravy, and a pile of green beans. Anne had a salad. The turkey dinner was the first time for Mirek and Hana. Hana had the child's portion, but it was still too large for her. But they both liked the meal. Me too. It was very good. One of my favorite meals. Anne and I paid $20.31 for our meals; Mirek and Hana paid $19.78.
Inside of the cafeteria there was one young fellow who served our meals who was from Slovakia. He and Mirek and Hana spoke a bit. The young man told me that he had been here for three months and it was nice to hear his native language.
Also, a young woman from Poland was cleaning our table. Mirek spoke to her as well. Then another young woman came over (also a worker) who was from the Czech Republic. The Czechs all spoke briefly. It was fun for all of them to meet country folk so far from home. And it was fun for Anne and I to hear them speak their language naturally. We had a nice spot in the corner near the windows, where Mirek and Hana got a nice view of the lake and surrounding forest.
When we left to return to our rooms the almost full Moon was shining wonderfully across the water of Yellowstone Lake. Mirek said they had never seen such a large lake before, and that the Moon shining on the water was romantic.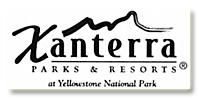 Back at our cabins we briefly discussed the next day's plans. We have decided to change our plans from our original itinerary and visit the Geyser Basin first, then the Canyon area on the next day. Then we turned in for the night.