I have three gnat bites on my right leg from the Gooseberry picnic area that are still itching terribly. I've used anti-itch cream and ice on them so far, but no use. I think they might be slightly infected. Sometimes it seems that gnat bites are worse than mosquito bites. You don't feel them when they bite you, but they sure itch afterward and seem to last longer.
6:30 a.m.
We packed up the Trooper and headed in for the free continental breakfast provided by the motel. It was very nice setup, with fresh waffles that we baked ourselves, bagels, cereal, juices, coffee, rolls, donuts, toast, a microwave oven to warm everything, and a variety of other items. We all ate our fill. We then checked out.
7:24 a.m.
We left the Comfort Inn for Mesa Verde National Park (saddle up!). The morning was cool, with only light clouds. We have come 1,412 miles so far.
7:33 a.m.
We entered Mesa Verde National Park and drove past Morefield Village and the Far View Visitor Center without stopping, heading for the Spruce Tree House area. We will then work our way back.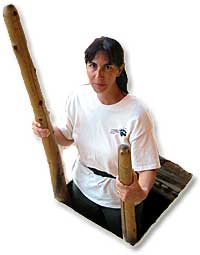 8:11 a.m.
We spotted a small female mule deer near the Spruce Tree House parking area. There is quite a bit of construction going on in the area, and it seems that the museum there is getting a new heating and air conditioning system. But we could still observe most of the items in the museum. We then walked down the asphalt path to the ruins. For a while we were the only tourists there, with a Park Ranger and a Park Worker. We were able to go down into a kiva, and visited with the Ranger for a short while. On our return to the parking area we used the restrooms there.
9:45 a.m.
We left the Spruce Tree House area and drove the Mesa Top Loop and stopped at a pit house where there was a tour listening to a guide speak about the ruins.
We then drove to the Square Tower House Overlook. There we walked back along the road a short ways to the Navajo Canyon View where we could see the heavily vegetated canyon cutting back into the mesa. We were able to spot a couple of small cliff dwellings. Then we walked back past where we had parked and down a .25 mile asphalt path to the Square Tower House Overlook. This was a nice walk, and we were the only ones out there.
10:30 a.m.
We stopped at the Sun Point View, the Oak Tree House Overlook, and the Fire Temple and New Fire House Overlook. We could also see Cliff Palace across the canyon, with the hordes of tourists waiting for their scheduled tour. You can only visit Cliff Palace with a Park Ranger as a guide.
10:40 a.m.
We stopped at the Sun Temple and walked around there for a short while, getting a better view of Cliff Palace across the canyon.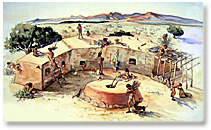 11:00 a.m.
We then continued on, back to the north, and visited the Far View ruins (elevation 8,040 feet, or 2,452 meters) and walked around and in them for a while. (See map.) There was only one other couple in the area while we were there. Very quiet and peaceful, sunny, with a slight occasional breeze that kept the air comfortable. We toured around the Far View House, the Pipe Shrine House, and Coyote Village.
11:50 a.m.
We headed toward Park Point (elevation 8,571 feet, or 2,621 meters) to have a picnic lunch. On the way up the road to the point we spotted a single grouse along the side of the road.
12:05 p.m.
We stopped at Park Point for a picnic lunch. We had the area mostly to ourselves, as most people stopped only to walk up to the high point and look around. There are clean restrooms near the picnic area, but only a few tables under shady junipers and pinyons. But they all have great views of the surrounding valley. After we ate we walked up to Park Point where there is a fire lookout building, and a Park Ranger on duty. From up there you can see for many miles in all directions. On the walk up Mirek noticed the flying grasshoppers and was fascinated, saying their local grasshoppers only hop.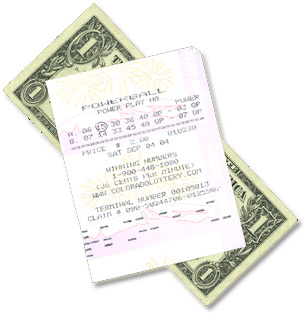 From there we continued north and out of the Park. We took 160 back to Cortez, where we bought gas. The price per gallon was $1.989. We put in 8.6 gallons, which cost us a bit over $17.11. We bought two lottery tickets to share with Mirek and Hana, and then ten tickets, one for each of the next ten lotteries, for Anne and I.
1:58 p.m.
We left Cortez, Colorado. The temperature was 85 degrees F. We headed southwest on Highway 160/666 (491), and then took Highway 160 in a more westerly direction. This part of the drive, through the Ute Mountain Indian Reservation, is pretty desolate and dry.
We passed the Four Corners Monument, which appears to be mostly a parking area with booths set up by Native Americans to sell their crafts. We passed by without stopping.
We drove just a short way through New Mexico before we entered Arizona. Arizona does not have daylight savings time, so we gained an hour. [From this point until we get back to Utah I will note the time as both Mountain Day Light Time and Arizona Time (AZT). That way we will be able to match the dates and times stamped on our digital photo files, and still know what time it was locally.]
3:19 p.m. (2:19 p.m. AZT)
I played a short piece of a Navajo radio broadcast near the Painted Desert. We saw many Navajo hogans and sheep along the side of the highway. There were some interesting Navajo and Hopi place names along the way, such as Teec Nos Pos, Tes Nez Iah, and Dennehotso. We could see Comb Ridge, which extends from this area all the way up into southern Utah, west of Blanding and east of Natural Bridges National Monument. We could also see the southern edge of Monument Valley, with various monuments poking up above Comb Ridge and the other ridges in the distance to the north and northwest. We also got to see the impressive Church Rock a little east of Kayenta.
3:50 p.m. (2:50 p.m. AZT)
We entered Keyenta, Arizona, on the Navajo Indian Reservation. We stopped at a McDonalds to use the restrooms and get fresh drinks. Mirek and Hana bought coffee and Mirek and I bought Coke Icies. He had never tried anything like that. We drank them in the car. Our snacks cost Anne and I $1.25; Mirek and Hana paid $3.12 for theirs.
It was very windy and dusty, and hot. As we left Kayenta we drove down Marsh Pass and into the Klethla Valley, between Black Mesa and Skeleton Mesa. There are definitely interesting geological formations in this area. Some areas are as spectacular and fascinating as what we find in many national parks and monuments. We also passed near the Hopi Indian Reservation, on Black Mesa.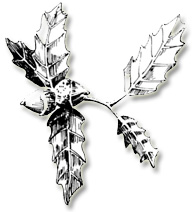 4:50 p.m. (3:50 p.m. AZT)
We spotted what appeared to be smoke from the Navajo Power Plant near Page, Arizona. But I am not sure. It is so dense that it may be smoke from a forest fire. I couldn't imagine the power plant getting away with this much pollution on a daily basis.
5:10 p.m. (4:10 p.m. AZT)
We got stuck in road construction north of Tonelea for about 15 minutes. After that we could see the San Francisco Peaks off in the distance. We noticed that there is exceptionally heavy traffic on this highway in both directions, and an unusual number of motorcycles headed toward Cortez. I thought I'd heard a Ranger at Mesa Verde say that there was a motorcycle rally either in Cortez or Durango.
5:22 p.m. (4:22 p.m. AZT)
We drove through Tuba City and Moenkopi to the junction of Highway 160 and 89. We took 89 south.
5:50 p.m. (4:50 p.m. AZT)
We reached Cameron and bought gas, filling up the tank for $20.40, then drove west on Highway 64 between the Little Colorado River Gorge and the Coconino rim of the Coconino Plateau. As we approached the park it became obvious that the smoke we had seen was indeed coming from a forest fire. It was now obvious that there were at least two, the larger one to the north, and a smaller one to the south. My fear was that there would be one on each side of The Canyon, either keeping us from our plans, or smoking up the air so that we had to breathe smoke during our stay.
6:30 p.m. (5:30 p.m. AZT)
We entered the east entrance to Grand Canyon National Park. We asked the Ranger at the entrance station about the fires. He said that the large one was indeed on the North Rim, near the Lodge, but that the road was still open and there was no danger to the Lodge area. He told us that the fire was caused by lightning, but it was now a controlled burn. I felt a little better, but was still concerned about the amount of smoke we might have to inhale when we moved around to the north side tomorrow. As long as the wind continues blowing from the west we would probably be okay.
We drove to the Desert View area (elevation 7,438 feet, or 2,267 meters). We were surprised. It had only been a couple of years since we last drove through this area and visited the South Rim. But there is a new parking area, with a new approach. You can no longer drive to Babbitt's store, which is no longer Babbitt's store. It seems strange not to see "Babbitt's Store." They must have lost their concession.
We walked to the Tower Overlook and Mirek and Hana got their first view of the Grand Canyon. However, the view was obscured some by the smoke and the low angle of the sun. In addition, there were a lot of tourists out on the observation deck.
We then walked through the Tower Gift Shop and up into the highest level of the tower and peered out through the windows. Anne and Hana each left messages in the guest book. Other Czechs had visited earlier in the day.
7:15 p.m. (6:15 p.m. AZT)
We left the Desert View area for Grand Canyon Village. We did not stop at the overlooks along the way because of the time and the low angle of the sun. We will try to catch a few on the way out tomorrow morning.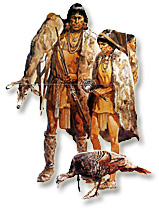 7:56 p.m. (6:56 p.m. AZT)
We spotted four mule deer bucks with velvet on their antlers grazing along the side of the road.
7:57 p.m. (6:57 p.m. AZT)
We reached Grand Canyon Village (elevation 6,860 feet or 2,091 meters). (See map.) There were three female mule deer grazing near the railroad tracks. We found a good parking place right away, right up front, near the entrance to the Bright Angel Lodge. We were able to check in with only one small group ahead of us. The only hassle was that they could not give us a credit on our card (we had put down the deposits on both rooms). Anne will talk to the manager in the morning to get this resolved. Each room cost $72.08 per night.
We went to our rooms in the first building to the west of the main lodge. Our rooms are across the hall from each other (6104 and 6105). We brought our bags into the rooms then walked back along the patio to take a quick look into the Canyon. The Sun was about to set, and we could see the gray plume of smoke billowing up from the forest fire behind the North Rim Lodge. It was an unusual sight.
We then walked to the small restaurant in the Lodge where we have eaten so many times before.
We had to wait twenty minutes to get a seat, so we looked around in the curio shop. Mirek and Hana bought a pack of Grand Canyon post cards and a book of photos. Anne and I saw a couple of items that we thought we might pick up the next morning. There were two seasonal workers behind the counter, one from Croatia and the other from Slovakia. Mirek and Hana spoke with them briefly about their trip. I walked with them back to the rooms so that they could drop off their purchases. Anne waited for the call to dinner. Of course, just after we left, the beeper went off and Anne went in and got us a seat.
Mirek and Hana had a spinach salad with bacon, boiled eggs, and ranch dressing. It was large for them. I had the Canyon Grill, which was turkey, bacon, and melted cheese on bread, with onion rings. Anne had a veggie burger. The Café does not have bottled water, so Mirek had a beer, Hana had a Sprite, Anne had lemonade, and I had iced tea. Anne and I paid $28.75 for our meal; Mirek and Hana paid $22.94 for theirs.
After dinner we returned to our rooms by walking out along the rim on the patio. We could still see the amazing glow of the fire mingling with the gray smoke, and in front of that we could see the lights of the Lodge on the north side.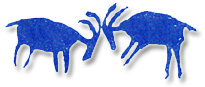 After that we turned in. It was late and we were all tired from the long hot drive. By the time we went to dinner the air temperature had dropped considerably. The high tomorrow is supposed to be about 85 degrees F. At Phantom Ranch, at the bottom of the Canyon, the temperature is supposed to be 104 degrees F.
Our rooms are very nice. Kind of a rustic, cabin-like setting. Very western. There is no air conditioning, but we can open a couple of windows, with screens, if we like, and there is a large fan in the room to keep the air moving. There is lots of space for suitcases, and enough drawers for a whole family to find room if they were staying for several days.